"I don't like that cop... Are you one too?"
-Kyle to Jack.
Biography Edit
Kyle Myles (9th December 2011) is a professional candy eater and Darth Vader impersonator in the city of San Paro. He is the son of Kyle and Adrianna.
Equipment Edit
Abilities Edit
Appareances Edit
Chapter 1: The good, the bad and the head (on going)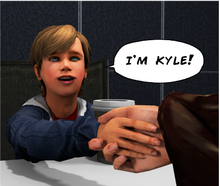 Ad blocker interference detected!
Wikia is a free-to-use site that makes money from advertising. We have a modified experience for viewers using ad blockers

Wikia is not accessible if you've made further modifications. Remove the custom ad blocker rule(s) and the page will load as expected.